Quality and productivity are two of the most important features in the manufacturing and fabrication world.
Companies are always on the lookout for better ways to increase throughput and retain quality of the product, while trying to keep labor and maintenance costs low.
To remain competitive, you too must find a way to efficiently streamline your manufacturing operations, lower errors in production, and retain both quality and quantity. Robotic welding, in many cases, is the appropriate option.
Robotic Welding Performance amidst Dedicated Industrial Operations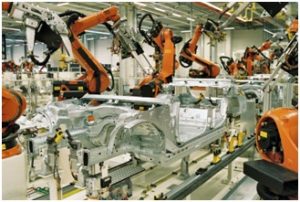 You'll require thorough planning and consideration whether or not to implement a robotic welding system, but the benefits are incredible, for both the smaller job shop and large manufacturing facilities.
For companies looking to further improve performance level of existing robot weld systems, the following needs to be considered:
Right Wire Selection
Even minute and seemingly unimportant variations (in the wire feed) results in unacceptable and unwanted welds.
This is because robotic welding processes involve a very precise level of tolerances.
Choose a wire that is specifically designed to smoothly go through the liner and drive rolls. Another consideration that is unique to robotic applications and performance of the welding system is the wire's arc starting performance.
Consider a Front Load Liner
Front load liners are typically used because they efficiently replace the liner from the front of the gun.
Compared to standard liners, front load liners allow MIG welding operators to change/replace the liners in less time. What does this mean? Liners are replaced on proactive basis and during short intervals of downtime, which doesn't bring a halt to operations or production.
Right MIG Gun Selection
Operators look for durability in both semi-automatic and fully automatic robotic MIG guns yet this quality becomes all the more important when it comes to robotic applications.
You can't expect the welding gun to perform at its peak all the time because inevitable as it is, the device will suffer physical crashes with clamps, fixtures and other equipment or the weldment itself!
Since it's impossible to avoid the occasional collisions, operators should select a robust and durable robotic MIG gun to minimize downtime and drastically reduce production replacement or lost production costs.
Replace the Right Spare Parts
Maintenance is crucial when it comes to the seamless and productive performance of robotic welding systems.
Therefore, much thought should be placed on the maintenance procedures and quality of spare parts being used. This is the only way operators can reduce or totally eliminate unscheduled system shutdowns.
Preventive maintenance of the robotic welding system, i.e. making sure the robotic torch, consumables and cables doesn't abruptly shut down should be carried out during the workshop's maintenance schedule. This will ensure nothing is left out from the maintenance screening.
When it comes to buying robotic spare parts, no resource comes close to UsedRobotsTrade. Make sure your business operations are performing at peak capacity, because now you can!