used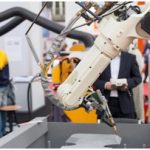 It took a number of years but the world is now seeing an increase in robotic technology and the use of robots in a number of manufacturing and industrial fronts.
With the amount invested in robotics start-ups and number of patents being placed on robotic technology, we can safely assume that this rising trend will continue.
Is Robotics Technology Geared Towards Mass Adoption?
Known as industrial robots, 90% of all robots are already being used in factories, in the manufacturing sector.
A little over ten years ago, car manufacturers employed the most robotic help – 9 out of 10 – but now robots can be found in warehouses, laboratories, energy plants, hospitals, research and exploration sites and even outer space!
Manufacturing Sector Is Still the Biggest User of Industrial Robots
While manufacturing plants and factories still require presence of human labor, one cannot deny that the incorporation of industrial robots in manufacturing and production facilities has enhanced efficiency, reduced downtime and decreased costs.
Other than automotive manufacturing and supply, industrial robots are used for:
Aerospace
Chemical, Rubber, and Plastics Manufacturing
Food and Beverage
Electrical and Electronics Manufacturing
Entertainment-Movie Making
Wood Furniture Manufacturing
Printing
Ceramics, Glass, and Mineral Production
The Specific Tasks of Industrial Robots in Manufacturing
Used in a wide range of applications and tasks, the manufacturing industry depends on peak performance and efficiency of industrial robots. They perform the following tasks:
Handling dangerous products
Assembling products
Spraying paint and finishes on the final product
Cutting and polishing
Welding
Inspecting livestock, produce, and parts
Industrial Robots Quickly Revolutionizing the Industrial Sector
As the purchaser of the most industrial robots, the manufacturing sector is seeing an incredible change in operation and performance as robotic technology advances even more.
Smarter and faster industrial robots can now be capitalized upon to perform more tasks and jobs such as packaging and picking, running tests and inspection of products, and assembling minute electronics, etc.
As technology advances, these robots are given more 'human' capabilities and traits, i.e. dexterity, memory, sense and trainability.
However, the exceptionally high cost of these robots makes it impossible for small factories to make use of industrial robots. However, it doesn't have to be this way.
We, at UsedRobotsTrade offer pre-owned industrial robots of different renowned brands. Our collection also features spare parts at affordable rates. Although used, these robots promise efficiency, consistency, and qualitative production. Get in touch with us.