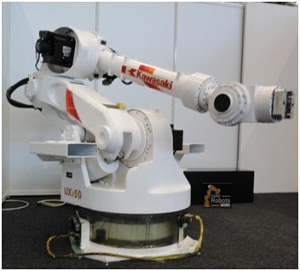 Industrial robots have been in use for over five decades now. First ever used by General Motors, they are now widely utilized across a range of industries and manufacturing facilities. That being said, one cannot deny that these robots are priced high, and continue to be out of reach for SMEs that want to benefit from the not-so-new robotic evolution.
What if we tell you that you can get your hands on some certified brands of industrial robots at low cost?
At UsedRobotsTrade, we provide our clients the opportunity to purchase used robots and robotic spare parts online. Possessing a wide range of reconditioned robots, we only deal in some of the top-notch brands including Kawasaki, Fanuc, KUKA, Motoman and many more.
The recent addition to our special offers this time around is the heavy duty Kawasaki UX150. At an astounding price of 9500€, this dream robot has a wide range of applications across industries. Keep reading below as we outline amazing features and capabilities of this industrial robot that's geared with a C-controller:
The Kawasaki UX150: Why it's a Must-Have
Marked with an unmitigated user envelope and express-speed capacity, this one is a must-have if you want to reduce the required floor space for installation of the plant. Some of its special traits are described below:
An extensive working envelope
Enormous Payload
High-wrist turn and capacity to immobilize
This robot is designed in a manner to utilize minimum floor space:
Lesser path: 550mm x 500mm
Designed with a lean arm
Has the least deadzone
The Kawasaki UX150 yields some impressive output advantages such as:
It can produce at a rapid pace of 8.2m per second
This particular model has an advanced acceleration/deceleration velocity
In addition to these features, it possesses an improved precision of servomechanism loop and digital servomechanism control.
With reliability and convenience being its middle name, the KAWASAKI UX150 is extremely user-friendly with the following programming features:
Simple teaching mechanism with a multi-purpose panel,
'AS' language that makes programming less taxing,
Online logging of errors,
Software that operates under a menu,
A unique speed limitation mode (automatic)
In case of default or malfunctioning, this robot has an E-stop button as well as over-use limitations that offer safety.
Speaking of maintenance, the Kawasaki UX150, on average, requires around 5000 hours of work for it to undergo preliminary maintenance. The interchangeable design and congeniality with similar spare parts encourages achievement of components and understanding via fitting methods.
Moreover, lubricating this robot is quite effortless as the gears are accessible to clean. All in all, the Kawasaki UX150 is a sensible investment that will save costs and augment production in the long run. Don't miss this unique offer!
Call us at 0034 600 987 748 to make the most of this special deal or email us at info@usedrobotstrade.com for further inquiries.