Fanuc's extensive track record in industrial robotics automation solutions has established productivity, reliability and profitability at the highest level.
Fanuc's commitment is based on designing functional and innovative equipment to meet the needs of its customers and provide products and assistance during use.
This pioneer in technology development has designed a new robotic category that supports the increase in production flexibility.
FANUC has launched its new collaborative proposal with a light robot, the CRX-10 iA is projected to expand the scope of collaborative work that can be carried out between robots and employees with sensitive contact detection that allows them to work safely in a variety of industrial and manufacturing work.
Its ergonomic design includes a lightweight and compact arm that adapts to virtually any space configuration with a high level of safety, has a payload capacity of approximately 10 kg and a range of 1,249 mm.
It works in combination with the R-30iB Plus Control System designed to be more intuitive, it optimizes the power to reduce energy consumption, high performance in cycle times with greater speed and accuracy. It has direct teaching programming and a new tablet interface with icons for touch control. Compatible with the FANUC iRVision and iRPickTool integrated software.
What differentiates the CRX-10iA from the rest of collaborative robots is that it is empowered with the ability to replace the Teach Pendant with a tablet generating an easy use thanks to a new user interface. Facilitating its application in driverless transport systems and automated guided vehicles (AGV).
This robotic model will facilitate the work for inexperienced and experienced users, thanks to this new intuitive user interface that reduces the configuration time, allowing to easily automate those SMEs.
The collaborative model was exposed in iREX, where it demonstrated the ability to load metal blocks in a ROBODRILL machine tool using a 3D vision sensor.
The CRX-10iA is available in two different variants: a standard arm version and the CRX-10iA / L long arm version with a maximum range of 1,400 mm and a payload of approximately 10 kg, with a lightweight and compact arm adapts to virtually any space configuration; It facilitates interaction with the parts behind the robot. It is also based as a robot that offers user comfort, efficiency and a high level of production.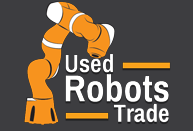 If you're looking for top-quality Fanuc spare parts, get in touch with Used Robots Trade. Besides offering a range of used robots parts from leading manufacturers, we also offer high end used robots, new robots, welding robots, and robot integration and milling services.
For more queries and concerns, call our experts at +34 600 987 748.